Gateway to Sacred Sciences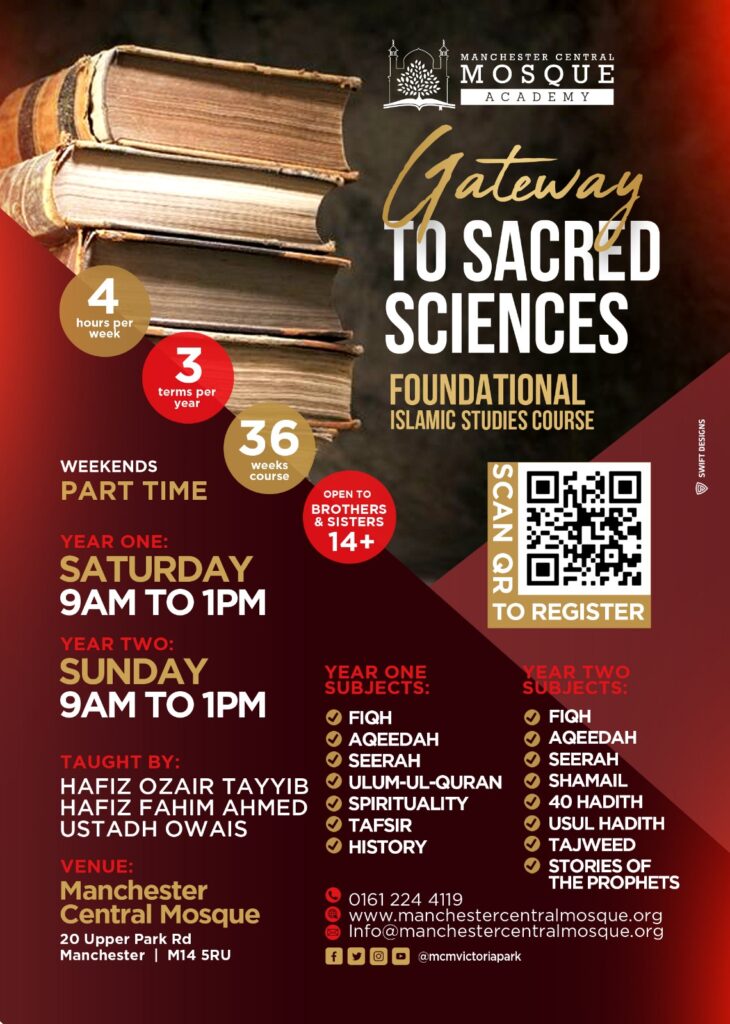 Register now, Gateway to Sacred sciences – 2 Year Islamic Studies course:
Gateway to Sacred Sciences course is £400/year.
Flexible payment options available: one-time yearly payment, 10 monthly instalments, or 3 termly payments. Choose what suits you best!
Aims and objectives
The aim of this course and the syllabus is to equip participants with the essentials of the Islamic faith. It aims to combine both traditional forms of learning as well as contemporary methods. The course will equip students with traditional study of the Islamic sciences, I.e.Quran, Tafsir (Quranic exegesis), Hadith (Prophetic narrations, sayings, and traditions), Fiqh (Islamic jurisprudence and law), Aqeedah (Traditional and orthodox Islamic doctrine/ creed) and Seerah (The Prophetic biography).
This course aims to equip students with lifelong skills, ability, and knowledge, such as:
Acquire a knowledge of the major sources of Islam, its main beliefs and its early history.
Understanding the tenants and major beliefs of Islam and the importance of them.
Drawing life lessons from the early Muslim community an relating them to present day issues.
Familiarising students with both the Quran and Hadith and major themes within them.
Equipping students with sufficient knowledge of Jurisprudence to carry out and fulfil the obligatory 5 pillars.
Develop students' ability to construct well-argued, well-informed, balanced, and structured arguments, demonstrating their depth and breadth of understanding of Islamic Studies.
Prepare students for adult life as a faithful Muslim in a global community
Hours per week: 4 hours
Number of weeks: 12 weeks per term +/-
Number of terms: 3 terms per year
Number of years: 2 years
Age group: 14+